Open Contact Form
Please Contact Us
Robotic Process Automation (RPA) Training Bangalore
RPA is the use of software with artificial intelligence (AI) and machine learning capabilities to handle high-volume, repeatable tasks that previously required a human to perform. As businesses go digital, workplace automation is getting more importance and RPA jobs are already on demand. RPA is among the eight disruptive technologies that would make a significant impact over individuals and companies in next 10 years, as per a global survey on future jobs by NASSCOM. You can boost your career graph in RPA by having excellent RPA training in bangalore at Peopleclick Techno Solutions. A certified RPA professional will be valued as highly skilled in the industry and receive high pay package compared to non-certified professionals. Being the best RPA training institute in Bangalore, we offers high valued RPA certification program at reasonable rate.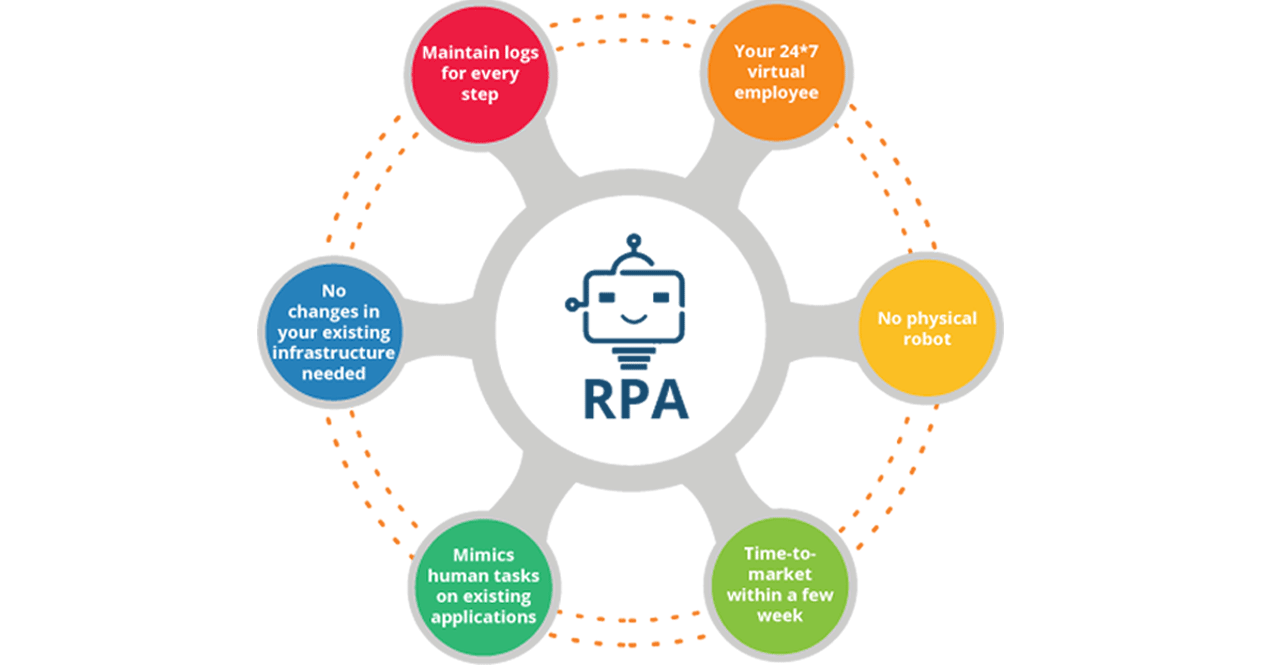 RPA - What is it and Why is it So Effective in Enterprise Automation
RPA involves an application that runs on automated scripts or simply a customizable software called 'bots' , which itself performs variety of tasks in an enterprise such as opening email and attachments, importing data from documents and so on. There are tools available to create bots for different purposes such as programming bots, bots with drag and drop interfaces, self-learning bots and recorders. Our exceptional RPA course in bangalore enables you acquire in-depth knowledge in the following and more areas in RPA and helps you get hands-on experience with different RPA tools.
AA Client Features
Creating My Frist Bot(Screen Recorder)
Types Of Recorders
SOAP Web Services
PGP Encryptions
Error Handling
Meta bots
Now, what makes RPA much coveted enterprise automation technology compared to traditional IT solutions? The most exciting feature of RPA is that it does not cause any disruption to already existing infrastructure and automate the tasks with lesser time than before. This reduces cost and improves efficiency. The other benefits of using RPA for enterprise automation are:
RPA takes care of low-complexity routine business tasks. This makes employees focus on core activities, which increases business results and employee satisfaction.
RPA reduces manual errors and enhances data quality. Thus, there would be less errors in customer-facing processes which boost customer satisfaction.
RPA ensure every processes are performed as per regulations and standards. This reduces compliance risks.
Scope of RPA
According to a survey by Deloitte, highly acclaimed accounting organization, RPA market would grow as much as $5 billion market worldwide by 2020. Lots of RPA jobs would be created with increased automation, especially in IT field. There is already demand for automation analysts, RPA analysts and automation consultants. The job roles that would be available in future include:
RPA Developer
Solution Architect
Service Engineer
Testing Engineer
Grabbing a career in RPA will not be a hectic task for you when you complete our RPA training in bangalore that cover all significant aspects related to RPA.
What's Unique With Us
Work on Live projects
Theoretical and practical classes
Support in preparing resumes and mock interviews
100% placement assistance
You can choose either our online or offline RPA training course in bangalore according to your convenience. Call us on +91-7619550011 or mail all your enquires at info@people-click.com.
What People Say's

People click is the best institute for learning RPA. They provided both theoretical and practical classes.

Abhilash
My overall experience about Automation training from people click is good. Trainers are very dedicated and took classes with real time examples. I recommend people click for the best training as well as placement assistance.

Vivek uniyal
Robotics training from people click is very good experience for me. The training is fully project oriented. So now I have confidence for attending any type of interviews. Thank you people click for the classes.

Niket
The training for RPA given by Peopleclick was good. Trainer was really helpful and classes are very interactive & informative. I recommend this institute for best knowledge

Shivana gutti