Open Contact Form
Please Contact Us
SAP HANA Training Bangalore
SAP HANA is an in- memory platform (data inhabit in main memory, not hard disk) and has database software with pre-tuned server and networking hardware from one of several SAP hardware partners. This trending database technology allows the processing of massive amounts of data in a short time. With unique simplicity, more flexibility and high speed, SAP HANA emerges to be the foundation new age enterprise management systems. There is a great demand for SAP HANA professionals to put SAP HANA work effectively for businesses. Peopleclick Techno Solutions comes up with the best SAP HANA training in bangalore to prep you up for making your own mark amidst of rising demand. Our SAP HANA course in bangalore is 100% placement oriented and help each and every student to achieve their dream career goals.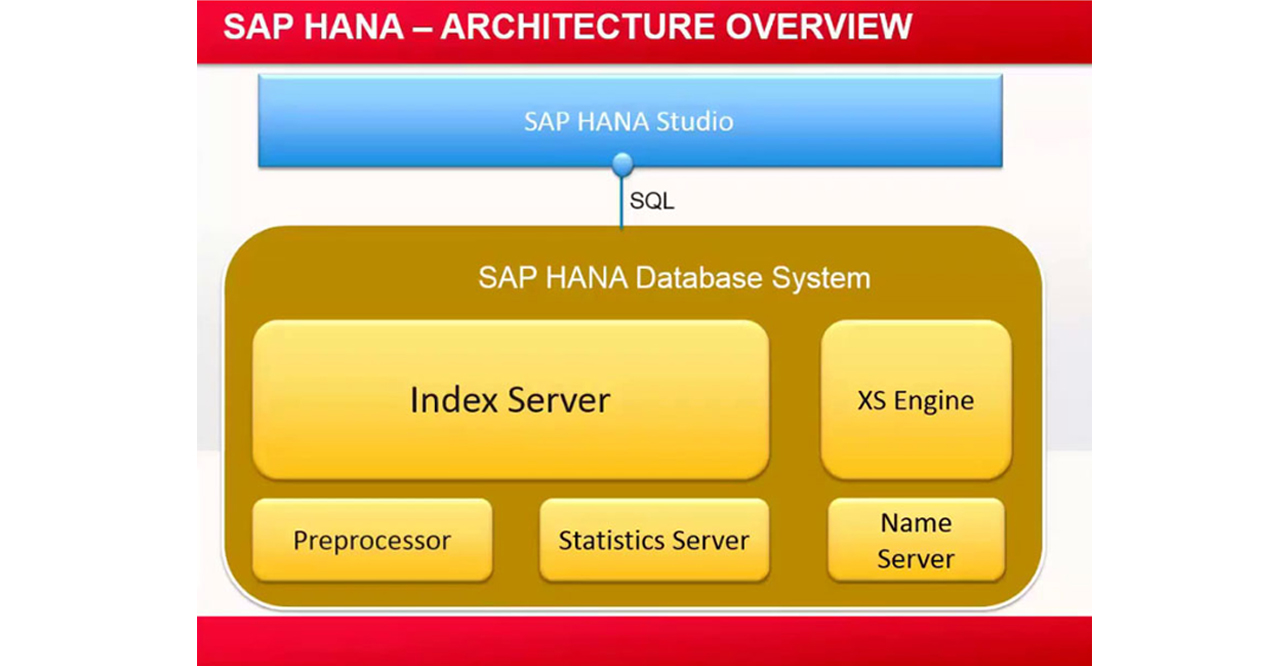 SAP HANA - Unique Capabilities
Reduced Complexity: SAP HANA integrates both analytical and transaction systems so as to simplify the IT infrastructure within an enterprise.
Real-Time Analysis: The in-memory computing eliminates the need to load the data from hard disk which makes faster real-time data analysis possible. This helps in getting right information related to business at the right time.
Most Modern UI: The state-of-the-art user interface powered by SAP Fiori provides uniform user experience and allows the SAP HANA users to do their job more easily.
Analyze Complex Data: SAP HANA uses powerful predictive algorithm to process even the most complex data and achieve better insights. This makes it the best available choice to deal with Big Data.
With such capabilities businesses can really improve their business outcomes to higher levels and it requires skilled SAP HANA professionals to accomplish this effectively. Our comprehensive SAP HANA coaching in bangalore will prep you to be a highly demanding SAP HANA professional.
Gain Variety of HANA Skills with Us
It's not that easy to find HANA related skills in the market and companies are hunting for it. Being the best SAP HANA training institute in bangalore, Peopleclick help you to understand the fundamental concepts of in-memory computing and acquire in-memory data management skills. As a part of our extensive SAP HANA course in bangalore, you can learn to install and operate SAP HANA, app development on SAP HANA and so on. On finishing our SAP HANA training in bangalore, you will be skilled enough to gain the following jobs:
SAP HANA Database Administrator
SAP HANA Developer
SAP HANA Data Modeling Professional
SAP HANA Consultant and more
The average pay for candidates with SAP HANA skills is estimated to be between 4 Lakhs per annum to 19 Lakhs per annum, depending upon the experience and the industry.
Other Benefits of Our SAP HANA Training
Our SAP HANA course in bangalore is designed from beginner to advanced levels. We have a great team of SAP working professionals as trainers, who has rich experience in handling SAP HANA projects. Another added advantage over other SAP HANA training institutes in bangalore is that we provide 100% placement support. The other key features are:
Quality Course Material and E-books
Live case studies and Assignments
24x7 online access to trainers for clearing doubts
Real-time Project Analysis
Resume Preparation Guidance
Mock Interviews from Professional Consultants
Based on latest industry developments, we prepare every SAP HANA classes in bangalore. With the state-of-the-art learning facilities, we are the best SAP HANA training institute in bangalore. Be an exceptional SAP professional with us.
Google Reviews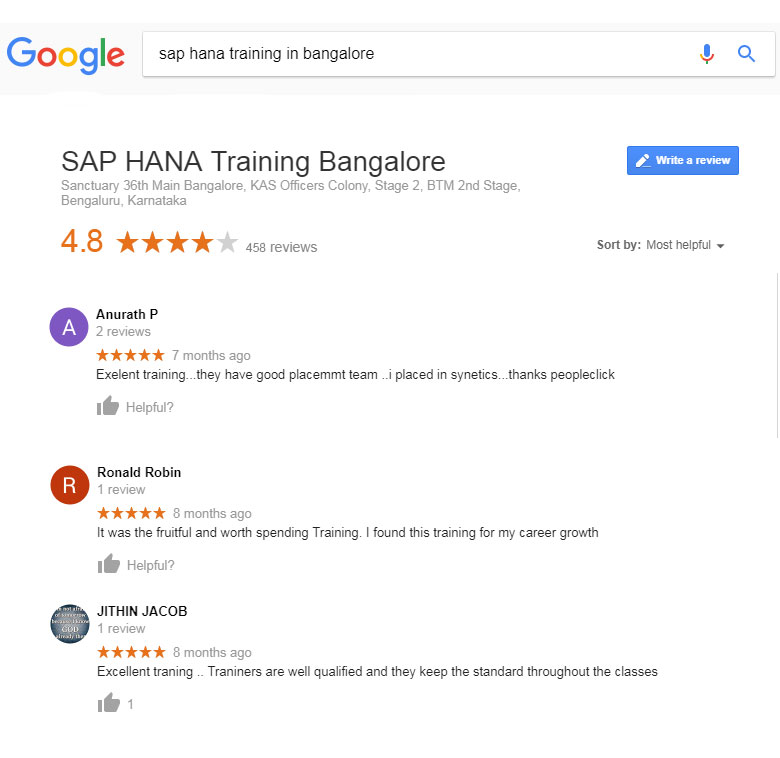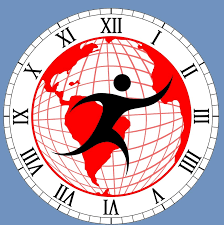 Peopleclick
Expert in SAP HANA
+91-7619343003
info@people-click.com
Testimonials

I have done SAP training in Peopleclick, the trainers are very good, and explained the concepts with real time experience. Finally they helped for interviews.

Deepika
It was a good experience getting prepared for the course in this institute. I went for the sap hana course and my trainer was good and she cleared all my concepts regarding the doubts. I would recommend you to join the institute for the course desired.

gokul